About the Flight Instructor Refresher Course
Who is the refresher course for?
If you are reading this you are either interested in becoming an instructor, or needing to renew your instructor rating. A TC approved instructor refresher course is designed to allow current flight instructors an opportunity to renew their rating without having to do another flight test. However, you can only renew your rating twice consecutively by means of the instructor refresher course. Then, you will have to do a flight test. Check out CARs 421.66 here.
The benefits of the refresher course are that it can be done virtually over a weekend (no pun intended). Furthermore, if your rating expires over the winter months in Canada it might be easier to take the refresher course than to hope for VFR weather in November on the day of your flight test. Moreover, you get to meet a bunch of instructors from all over Canada.
There are in person refresher courses, but I could not find one taking place in my area before my rating was to expire. So, I opted for the Aviation Solutions Online Course.
Aviation Solutions Instructor Refresher Course ($519 incl. taxes)
Over the weekend of November 20/21 I attended the Aviation Solutions Instructor Refresher Course.  It was all done using Zoom (as you might expect). I was given a pre-course package that required me to complete a mandatory 63 question pre-course instructor 'efresher' before the weekend course began. The average completion time for the 'efresher' is 6-7 hours. It was completed through a web app known as Classmarker. I have quite a bit of personal experience with Classmarker and I would attest that Aviation Solutions made good use of the tools provided to them by Classmarker. It wasn't that difficult, was open book, and was a great precursor to the course.
The two day course covered a variety of different topics.
I found the majority of the presentations to be of value to an instructor.  There was quite a bit of discussion around scenario based training (SBT). Also some valuable discussion regarding the marking criteria of pilot examiners (PEs). These were useful discussions that really help instructors to understand how their students will be scored on flight tests.
Presentations and Topics
Planning and Conducting Training

Threat and Error Management

Weak Performance Areas – Skill

Assessment Methods and Effective Evaluation
Would I take the Aviation Solutions instructor refresher course again?
Yes. Definitely. The course was very well organized, had some good content, and was very convenient. My advice to the course creators would be to make more use of the Zoom breakout rooms in effort to reduce the teacher talk time enabling the learning environment to be more student centered. Most pilots I've met like to talk and are active. Shorter sessions with shorter break time may also help attendees to maintain focus.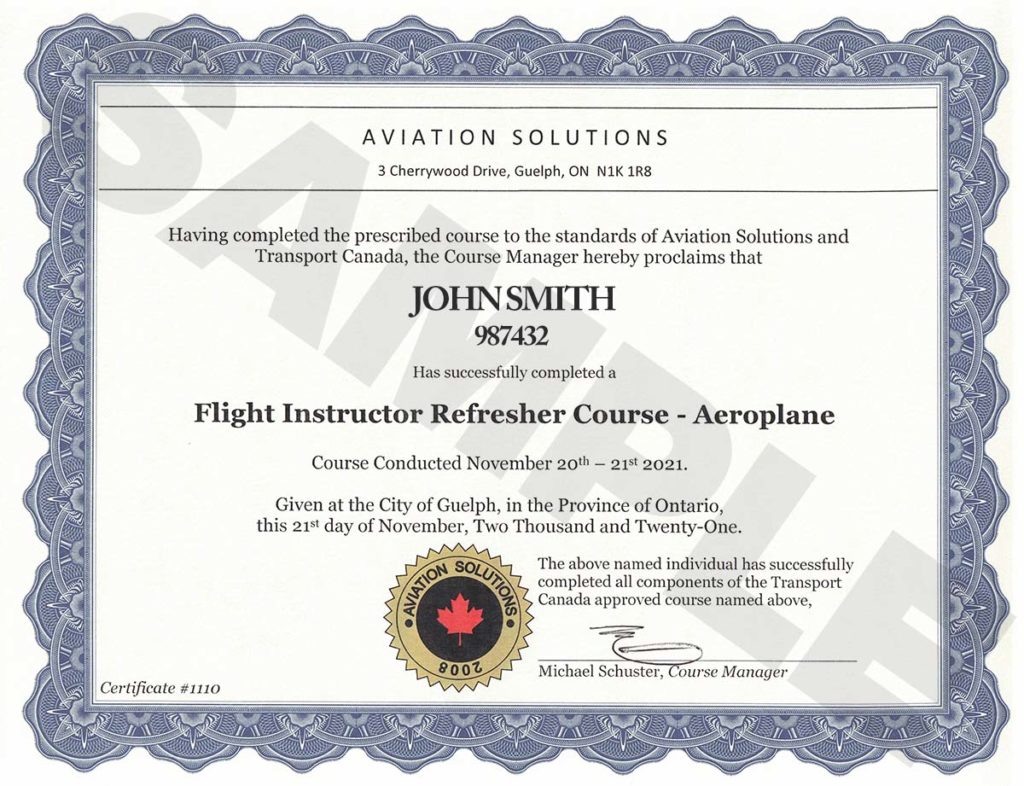 Upcoming Flight Instructor Refresher Course Dates
Feb 10-11 2022 (Thurs-Fri) On-Line Virtual
May 30-31 2022 (Mon-Tues) Cambridge, ON
Jun 27-28 2022 (Mon-Tues) On-Line Virtual
Sep 28-29 2022 (Wed-Thurs) Cambridge, ON
Oct 24-25 2022 (Mon-Tues) On-Line Virtual