How To Get a Float Rating
Intro
A floatplane, or seaplane, rating enables a pilot to expand their aerodrome network, allowing them to land in all types of environments. Obtaining a rating is quite straightforward, although challenging. Not only are you learning to land on water, which is said to be a little more difficult than land, you are also flying into areas without the standard services you have come to expect. Fuel, air traffic services, weather and flight planning, may not be available where you're headed. Luckily, you've already obtained much of the important skills to be a great pilot already. Now you're just going to expand on them.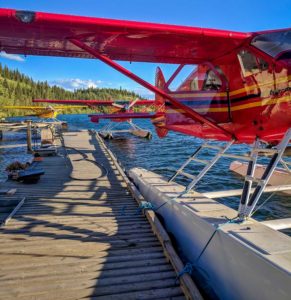 Training and Requirements
Step 1 is obtaining a pilot license, whether it be a Recreational Permit, a Private Pilot License, or a Commercial Pilot License.
You aren't required to have a certified flight instructor to train you – any commercial pilot or ATPL pilot with a floatplane endorsement and 50hrs of experience, can be your instructor. 
Step 2: Fly a minimum of 7 hours, including 5hrs of dual instruction and 5 solo take offs and landings, in a floatplane. Many float rating flight schools have packages which include more than just 7 hours, as the minimum is often not enough.
Some facilities also have "Career Bush Pilot Training" to help you ease into the industry or to give you more advanced float training. Georgian Bay Airways in Parry Sound, ON and Lake Country Airways in Orillia, ON are two examples of facilities that offer this type of training. 
Note, there is no formal ground school, written exam, or flight test. You will get a recommendation form signed by your "instructor" to endorse your new rating. Although, if you learn at a flight training centre, they will normally have ground training as part of their course. It's always best to become familiar with new concepts on the ground before heading up in the air.
A few topics that will be covered in your training:
Floatplane preflight and fuelling

Take-offs and landings, including those on glassy water, rough water, in confined areas, and in crosswind conditions

Taxiing, sailing, docking, ramping, beaching and mooring

Choosing suitable landing sites

Emergency procedures and air-work
The Canada Water Aerodrome Supplement shows you all the information you need on the water aerodromes in Canada that provide services, such as fuel, docking/mooring,  operator phone numbers, etc. Most public waterways can be used to land at the pilot's discretion, but there are restrictions at National and Provincial parks, as well as canals and wilderness areas within Canada.
Still have questions about obtaining a float rating in Canada? Ask them in the comments below!